Building Maintenance Units (Series 4)
These crane type machines are composed and modified from a comprehensive modular design to suit each building geometry and height. They can run on concrete runways, be installed on track systems or directly connected to the building structure.
These machines are mainly deployed in situations in which medium to large projections are required due to building terracing or obstacles on the roof.
With standard proportionate projections of up to 40 meters, they also bypass substantial building terraces. At the same time, efficient performance is guaranteed through the functionality built into each machine. They can be completely hidden from view in most cases and save money due to low cleaning cycle costs. Each building maintenance system we install is the start of a long-term relationship with that building.
The technical conception of our machines guarantees immediate operational readiness and high work performance on the facade due to simple handling combined with hands-on training in operation and safety for the operating and building management personnel.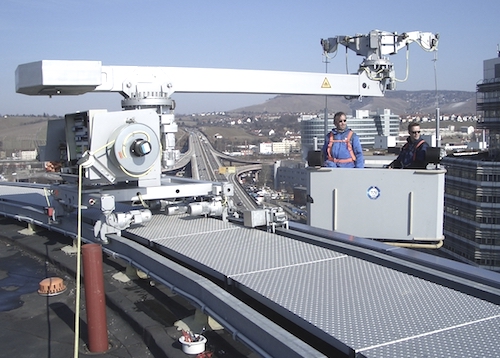 Type 4.1
Compact crane with horizontal track on roof
Where a building features protrusions such as terracing or other obstacles, a crane system may be required. This compact crane is suitable for buildings with sufficient space on the roof for the installation of a track mechanism.
Where track gauge allows, the track mechanism can either be laid independently (i.e. without penetrating the roof membrane but instead with the compression load only on the support points, insulated decoupling is also an option). Alternatively, this system can be provided with an anchored rail for transmission of tension loads.
If required, the entire machine can be stowed in a garage, or other parking area, using a shunting car.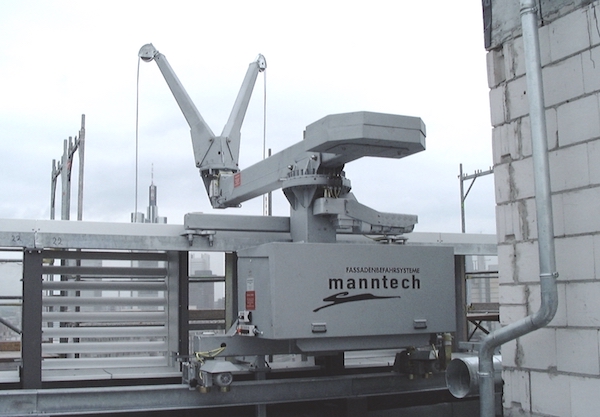 Type 4.2
Compact crane with vertical track along the parapet
This crane system also offers increased functionality to navigate building protrusions and is suitable for cases where there is insufficient space on the roof or very high parapets. The track is anchored instead to the load-bearing parapet and can also be provided with sloped tracks.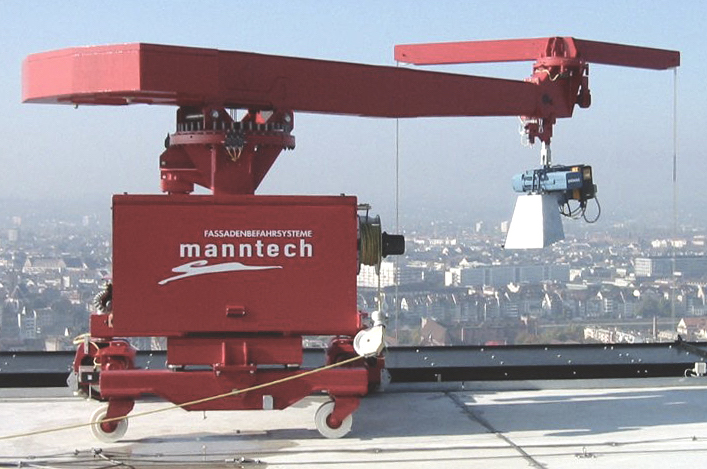 Type 4.3
Standard machine on roofs with load-bearing concrete runway
This trackless compact crane machine is suitable for building roofs with a load-bearing concrete runway. The machine travels on large wheels with durable polyurethane tyres which run on guide rails or the parapet. It can also be mechanically anchored if required.
The concrete runway can be configured so that the machine can be placed in a parked position and stored away from the building-edge.