News
Bespoke building access solutions for America's most coveted buildings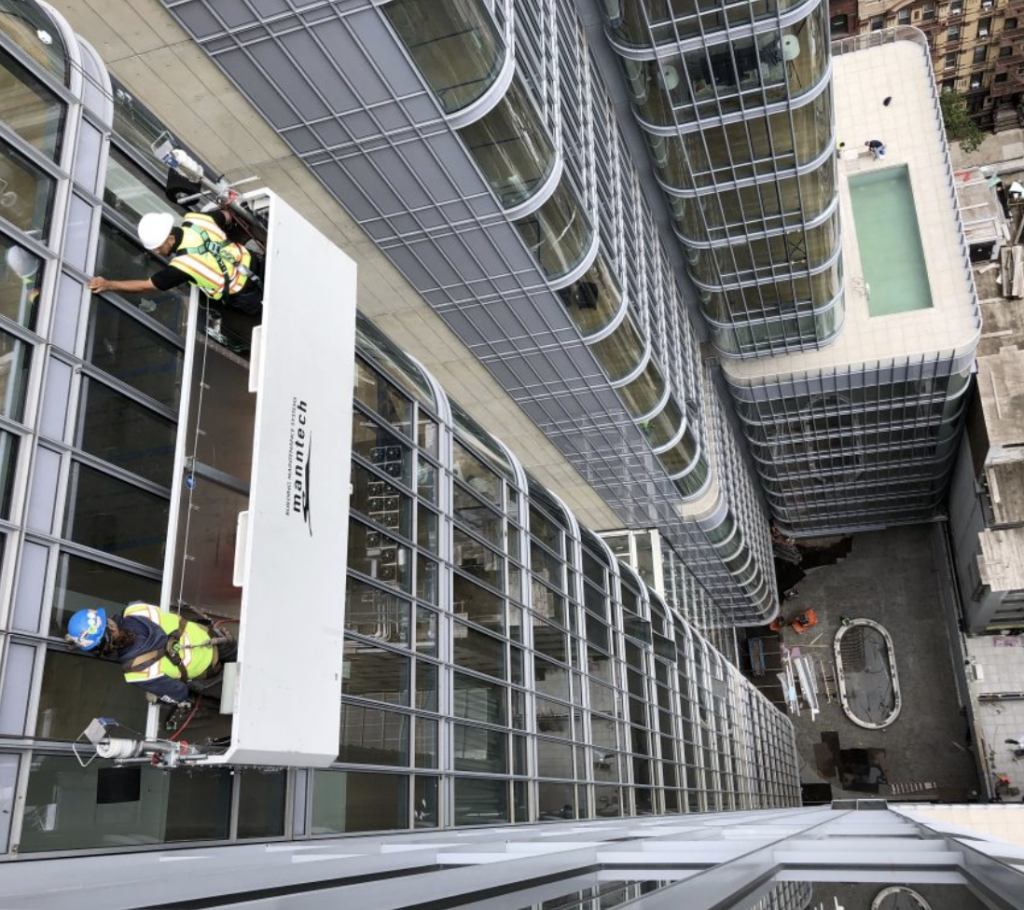 As the innovator of advanced, German engineered facade access solutions,
Mann

tech

have been at the heart of many of the most complex and challenging building access projects in the USA. Two recent examples involved customised building maintenance systems for this huge country's most attractive locations, from the bright lights of New York City to the sun-drenched Miami poolside.

Among the instantly recognisable streets of Manhattan in New York City, 565 Broome Soho represents the last word in glamorous city living. This high-end condominium complex is as architecturally complex as its address is desirable. Only a carefully considered bespoke building access system would be capable of achieving comprehensive coverage of the facade. Renzo Piano Building Workshop conceived a design of two sleek 'mirror image' towers rising from a glass atrium structure with a much larger footprint. The entirety of every facade surface is defined by glass, including long panels of curving glass at each corner section with no sharp edges or right angles. Manntech proved their problem-solving ability by developing a highly specialised facade maintenance solution capable of achieving 100% coverage with just two Building Maintenance Units. Sitting in fixed positions on the roof of each tower, the twin BMUs deliver up to 26 metres of outreach. They also support weights up to 500lbs with a glass handling unit capable of safely lifting facade panels up to 1100lbs. The challenge of navigating over the wider building footprint at the atrium level was further complicated by the fact that soft rope solutions were restricted by local rules. Two district stabilisation methods were therefore combined in a tailor-made system. Intermittent stabilisation anchors (ISAs) are utilised for much of the building, providing secure restraints against the building itself, while mullion tracks make a safe and secure transition over the atrium terrace roof possible.

Turning to an entirely different part of the American landscape and a different set of access challenges, the Four Seasons Hotel has been a glamourous Miami destination since its opening in 2003. The aging building access system, however, needed to be replaced in order to safeguard the outward appearance of this luxurious hotel building and ensure its continued success. This kind of replacement BMU project involves a number of particular challenges involved with designing and producing a building access system which can effectively be installed on an existing building with a minimum of disruption. In this case, the brief called for a single BMU to improve on the performance of the old system and provide complete coverage of the hotel facades while working within the fixed parameters and space limitations of the designated area. The new Manntech facade access system utilises the functionality of a twin jib BMU travelling on a wheeled base which allows for convenient transport across multiple drop points around the building. In addition, the jibs also feature a folding mechanism which allows for the BMU to be stored below the building parapet and avoid any visual impact on the luxurious setting. A street crane was used to remove the old equipment and transport the updated BMU into position without any undue complication.

Across a wide variety of complex buildings in the United States and all over the world, Manntech's reputation for highly engineered, tailor-made facade access solutions remains unrivalled. Contact us to find out more about how we can help with your specific requirements.