News
Custom access solutions for extreme weather and climate conditions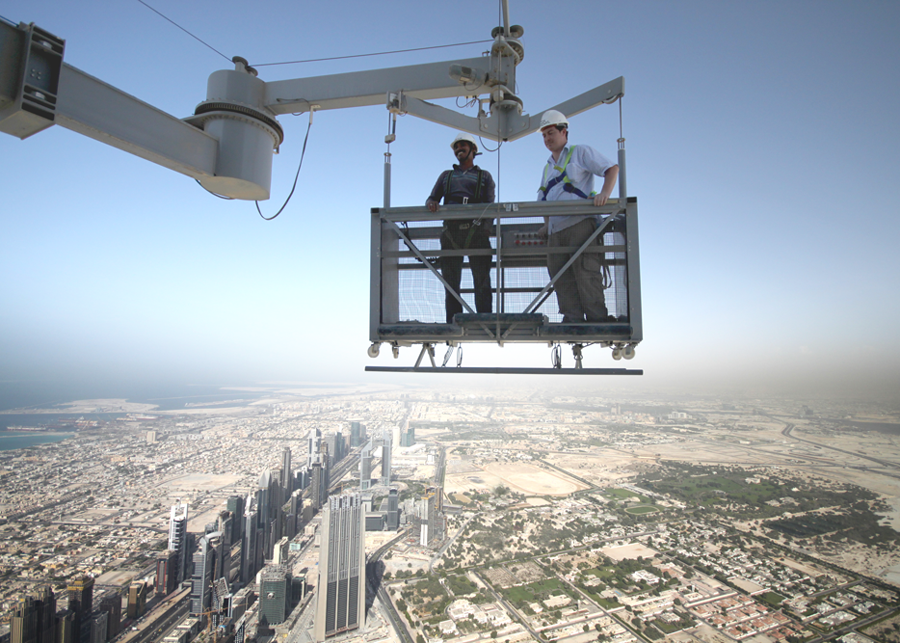 Extreme changes to weather and climate conditions require
Mann

tech

to continuously devise new custom solutions for the safe operation of Manntech BMUs.

In addition to the individual requirements for building access which are dictated by the architecture of the building itself and its intended uses, it is also important to consider what impact the local climate, prevailing weather conditions and any specific environmental factors will have on any building, including its facade access systems. Harsh weather conditions or a salty, coastal atmosphere might, for instance, lead to a higher risk of equipment and materials degrading, and create a need for more regular inspections. Manntech is well known in the industry as a leader in developing innovative, custom facade access systems in response to both architectural challenges and local environmental conditions.

It is also important to be aware of all regional codes and standards that are applicable to the geographic location of any construction project and Manntech's expert team can help you stay informed on this. Among other variations, the local climate and the environment the building will have to contend with might have a significant impact on the requirements for facade access systems and safety procedures for working at height.

Parts of the world which experience extremely hot weather require special consideration for facade access systems, including the materials used, any fluids and lubricants required for their operation, the access methods which are acceptable and types of stabilisation that are appropriate for the conditions. It's also important to bear in mind that BMU operators working in very hot conditions might require sun protection and the cleaning cycle times will also be affected by shorter periods of working outdoors.

Cleaning cycles might also be limited in areas where periods of high winds make operating the BMU unsafe, and this might be particularly applicable to certain tasks such as glass panel replacement. Areas which experience specific types of extreme wind conditions such as cyclones and typhoons might also have additional recommendations for protecting Building Maintenance Units from extreme wind events by designing a facade access system which provides suitable storage.

A well-known building which has had to account for both extreme heat and high winds is the mega-tall Shanghai Tower.  A unique double layered facade provides protection from the sun whilst allowing natural light into the interior of the structure. It is also located in an area at risk from typhoons and cyclones. For these reasons, the custom facade access system Manntech developed features seven identical BMUs which are extremely compact in order to operate in very tight spaces as well as be stored within the building envelope itself.

Another significant environmental factor is the likelihood of seismic activity. This involves careful consideration of horizontal and vertical forces and the ability of facade access systems to withstand earthquakes – especially if it forms part of the plan for building access and maintenance following a seismic event. Seismic activity was part of the consideration for the facade access systems at Menara Astra, located within the 'Pacific Ring of Fire' which is reported to be the site of 90% of all earthquakes in the world. An innovative lateral system rarely used before in Jakarta is part of a seismic defence design, capable of tolerating a 1 in 500-year seismic event.

Building access needs can also be impacted by what are known as 'high particulate matter' environments and saline environments. This includes areas which experience heavy pollution, frequent sandstorms or a very salty atmosphere. These conditions might call for a high frequency cleaning cycle to combat the constant barrage, as well as enhanced protection for both building access equipment and operators. Ping An Finance Center is located in a coastal area with a highly saline atmosphere. For this reason, it features a corrosion resistant facade made up of 1,700 tons of stainless steel with a facade access system which encompasses 13 Building Maintenance Units.

Manntech's design and engineering expertise, as well as our ability to deliver custom access solutions, has often been required in situations where the  climate, environmental conditions and the resulting regional codes and standards make standard building access systems impractical or unfit for purpose.