News
Discover Manntech's new improved Type 1 Compact range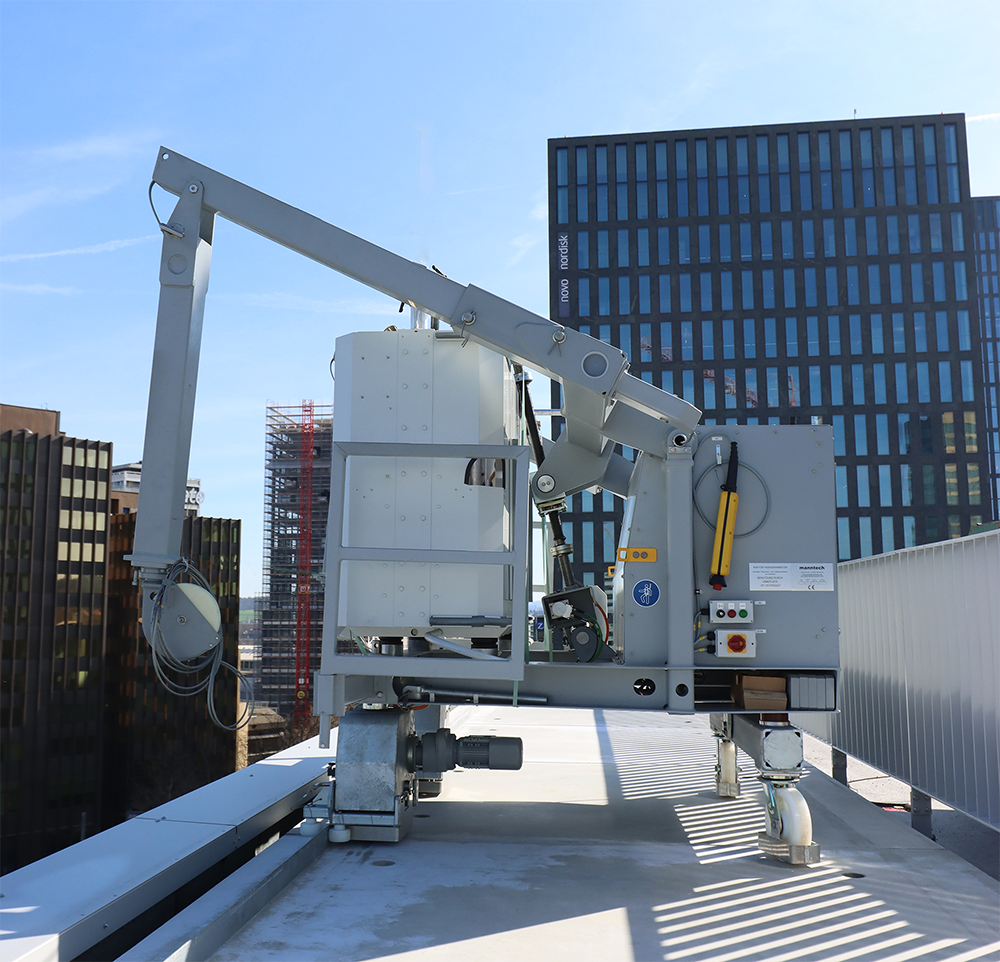 The Type 1 Compact range from
Mann

tech

consists of durable, low-maintenance fully equipped building maintenance units. The range is ideal for buildings of uniform shape without significant protrusions or recesses and wherever there is sufficient roof space to install track systems or load-bearing concrete runways. The Compact range is highly versatile and efficient in cleaning and repairing hard-to-reach areas of a building's facade.

The Compact Type 1 range has recently been improved with a refined aluminium housing, resulting in a 20% weight reduction and the lowest wheel loads in its class. The reduction in weight results in less materials being required making the system more economic and cost effective. The need for a structural check is eliminated on existing buildings due to the lighter footprint. Accessibility to the safety hoist unit has also been improved with access at the top and front of the unit. Additionally, the hoist now operates on a smaller footprint, optimising roof space.

The range features a new intelligent control system with a soft start function. This system improves efficiency by reducing inrush current by 50% and increasing traveling speed by 25%, thereby maximising operation time. 

The newly improved range is available in three models:


Type 1.1: A compact BMU that runs on a horizontal track, with the potential to steer into a garage or other parking positions using a shunting car.

Type 1.2: A BMU with a vertical track system anchored to the roof parapet and is especially suitable for use on buildings with a load-bearing parapet and non-load bearing roofs.

Type 1.3: A compact trackless BMU on a load-bearing runway, designed to be steered into a parked position away from the building's edge.

Why choose the Manntech Type 1 range


Manntech's Type 1 range of building maintenance units offers numerous benefits. Some of the key reasons to choose this range include:
Space optimisation: The Type 1 range reduces roof space requirements by 15%, allowing for the roof to be used for additional purposes such as terraces, solar panels, and heating/cooling units.
Enhanced efficiency: The innovative design increases efficiency by reducing inrush current by 50% and boosting traveling speed by 25%, maximising usage time for operators such as window cleaners.
Improved lightweight design: With a 20% weight reduction, the range is cost-effective and suitable for both new and existing buildings, eliminating the need for extensive structural checks.
MyBMU connection: Optional connectivity to MyBMU remote monitoring provides real-time equipment insights and predictive maintenance data, enabling remote monitoring and centralisation of data for facility managers.
Enhanced sustainability: The system's low wheel loads allow for the reuse of existing tracks, simplifying installation on older roof structures without extensive structural checks.
Efficient installation: The range allows for fast and straightforward installation, minimising disruptions to site operations and eliminating the need for tower cranes or mobile cranes.
Safety features: Safety is prioritised through features such as sealed overload protection and encoders that monitor movements and speed. These safety measures play a crucial role in minimising workplace accidents, leading to reduced insurance fees and window cleaning operator charges when safety risks are mitigated.
Positioning monitoring: Precise tracking of cleaning cycles ensures effective cleaning schedules and regular maintenance of all facade areas.
Contact our sales team for more information on Manntech's Type 1 Compact range of facade access systems.