News
Introducing Manntech's Type 4 Economical Range of Building Maintenance Units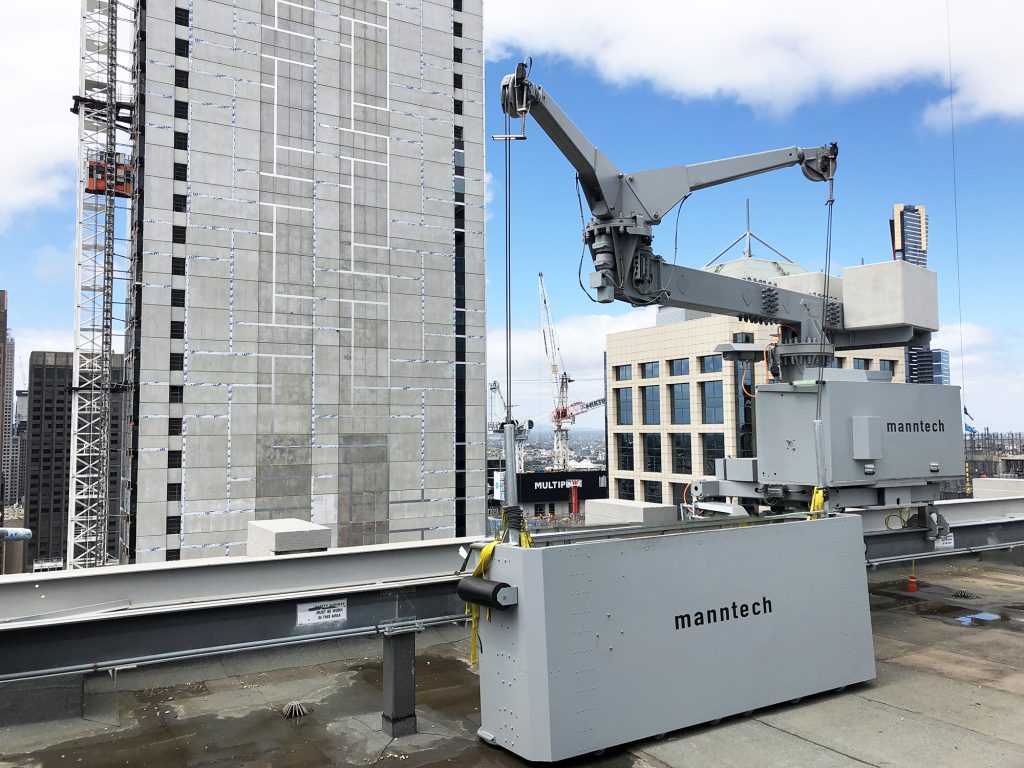 Mann

tech

's Economical range of Type 4 building maintenance units (BMUs) offers an ideal facade access solution for buildings with narrow passageways, small track gauges, terraces, recesses, roof obstacles and protrusions.

The Type 4 series of BMUs features a compact design, a central, overhead slewing jib, a slewing head, and a stationary BMU house. As the slewing head is located on the jib point, the BMU cradle can always be situated parallel to the building's facade.

Manntech's Type 4 series features three standout models. Each model has a fully digital operation and a predictive maintenance and remote monitoring operating system to provide building and facility managers with vital performance insights.

Learn more about the models:

Type 4.1

The simple design of this economical BMU offers additional functionality. The longer reach, heavier suspended loads and track-based system make the Type 4 model ideal for buildings with limited roof space. The track mechanism can be laid independently or added as an anchored system to the roof to transmit wheel loads. The Type 4.1 can also be parked in a garage or hidden behind the parapet wall.

Type 4.2

When work is required on a non-load-bearing roof with limited space or a high parapet, or in a very narrow passageway, the Type 4.2 BMU is the appropriate choice. It operates on a vertical track-based system, with the track construction anchored to the loadbearing parapet.

Type 4.3

This trackless BMU is designed to be used on roofs with a load-bearing concrete runway. The building maintenance unit operates on dimensional wheels with polyurethane tyres controlled by guide rails or a parapet and can also be mechanically anchored if needed. The BMU can even be parked and stored away from the edge of the building as required. The large, durable wheels of this BMU encourage easy operation, especially on uneven roof surfaces. It also comes complete with a rear balancer to allow effective weight distribution.

Manntech's Type 4 Economical building maintenance units provide facade access on several projects worldwide, such as on 500 Collins Street, Melbourne and New Century Plaza in Los Angeles.

The Melbourne project required a replacement BMU that could navigate tight areas and delicate building features and operate while the tenanted building remained open. Manntech's multi-component jib design and low-weight capacity allowed the BMU to be transported throughout the building as needed.

The Los Angeles project required a low-profile facade access system that did not interfere with the building's helipad. Manntech put forward an efficient design for a smaller Type 4 BMU operating on a vertical parapet mounted track with boom luffing movement, allowing for efficient operation over the parapet and ensuring the building maintenance unit maintained a low profile.

Contact our sales team for more information on Manntech's Type 4 Economical range of facade access systems.