News
Complete building maintenance solutions with the functionality for glass replacement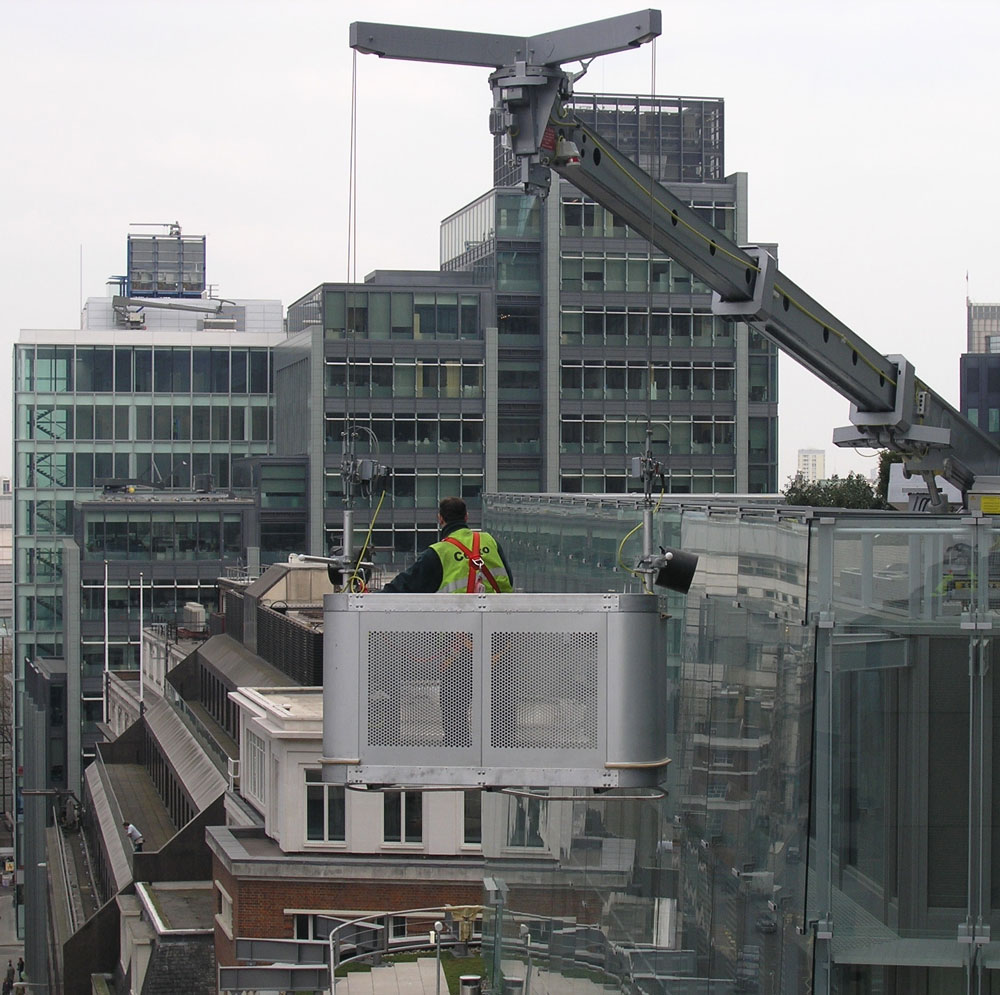 A fundamental requirement for any Building Maintenance Unit is that it provides comprehensive access coverage to all surface areas and sufficient cleaning cycles for regular upkeep of the building's appearance.
The tasks involved in the upkeep of tall buildings, however, commonly stretch beyond regular cleaning, and it is also vital to consider the full range of functionality you will need from a complete building maintenance system. One of the key factors involved in developing a comprehensive facade access solution which will meet all of your access needs for many years into the future is how the BMU will provide the means to complete occasional but absolutely critical maintenance tasks safely and practically. This includes tasks such as glass panel replacement, facade panel replacement and a range of other repairs which involve lifting heavy loads of materials, equipment and the workers themselves.
Manntech's in depth consultation and design process embodies a commitment to identifying and meeting all of our client's specific facade access needs. This means carefully considering all of the functionality required of the Building Maintenance Units for each unique project, including the practicalities involved in glass panel and facade panel replacement work which serves an indispensable role in protecting the appearance, and useability of any building.
One example of a project where high weight capacity lifting was a key consideration for the building maintenance system as a whole is Ping An Finance Center in Shenzhen. The facade is made of stainless steel which is intended to resist the corrosion caused by the area's salty atmosphere. At an impressive scale of 599 metres and 115 floors, the size of this building means its stainless steel facade also achieves the distinction of the largest facade of its type worldwide. Bearing in mind the importance of the facade itself and the materials used, the complete system Manntech developed for this project encompasses a broad range of specific functionality to serve a range of maintenance tasks including panel replacement work. The complex BMU design deployed at level 97 features a cradle weight capacity of up to 250kg and an additional option of a material hoist capable of safely lifting up to 600kg.
The facade access solution for Highlight Towers in Munich also involved significant challenges in terms of providing the functionality for glass panel replacement. The distinctive form of the twin towers features a sloping roof design which forms an attractive continuous line. This refined architectural style was celebrated by the CTBUH in their review of the Best Tall Buildings of 2012. The building aesthetic is clearly a key factor in its appeal and the Building Maintenance Unit on the roof of each tower is therefore fitted with the functionality of a material hoist with a 600kg capacity allowing for easy, safe and timely replacement of glass panels as required.
Contact us to discuss how we can work together with you and your stakeholders on a complete building maintenance system which will deliver all the functionality your project requires.