News
Ancient meets modern in the architecture of World Trade Centre in Abu Dhabi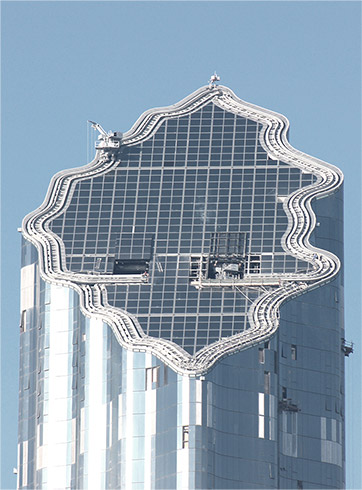 Abu Dhabi's World Trade Centre is one of the oldest sites in the city and the vision of architects Norman Fosters for this project was inspired by the traditional architecture of the Gulf, with the aim of reinventing the market place and giving the city a new civic heart.
By offering a distinctive development, they sought to avoid the globalised one-size-fits-all buildings prevalent elsewhere. The buildings offer a refined modern interpretation of the regional vernacular. The perforations in the roof and interior panels – a pattern developed with a scholar of Islamic arts, continue outside, wrapping the podium building in a textured facade. The design of the panels is based on octagonal forms, which reference both traditional zellij tilework and more recent research into mathematical geometry.
Rising above the market itself are two towers of different heights, a 58 story hotel and an 88 story residential tower, with a combined total floor area of 550,000m². Their facades are smooth, reflective surfaces that are specifically designed for this dusty desert environment, with layers of internal shading that control glare and solar gain. The buildings use high energy-performance glass to maximise energy efficient air conditioned environments. The most striking part of the design aesthetic is the unique, curvilinear shape of the buildings and their sharply sloping roofs. The development includes an Arabian Souk, restaurants, luxury offices, hotels and car parking.
The client demanded that the Building Maintenance Units (BMUs) must leave the building's design unspoiled without sacrificing any efficiency in operation. These challenges were met with a number of unique access solutions including four high-end climbing BMU systems which are all completely concealed when not in use, along with around 250 tons of track systems on each tower.
To complement the unique curvilinear shape of the building, Manntech also developed a custom-built curved twin track on a roof slope of 55 degrees in order to effectively maintain the high energy-performance panels. The systems for sloping roofs are integrated with a shunt car to park the machines inside the building and out of sight when not in use. The sloping roof also includes a turntable on which the BMU rotates, with a computerised control system automatically compensating for the positioning at the slewing ring.
Manntech's tender was the only proposal that could meet the high expectations of architects, Norman Fosters in terms of build quality and the engineering solutions required to meet the brief. Part of the specification was the production of a comprehensive mock-up to test all machines, including shunt cars and track switches in Europe to ensure complete accuracy and functionality of the system.