News
Delivering compact solutions for a range of facade access needs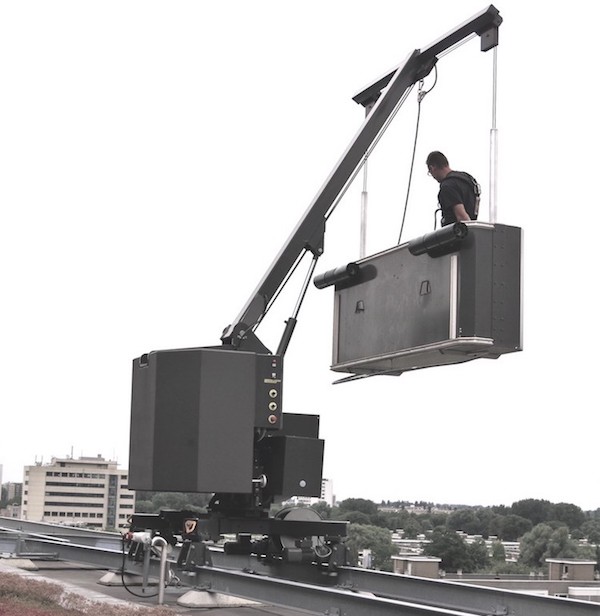 There are a whole host of reasons why a compact facade access solution is often desirable or even a specific requirement. This might include finding the most economical solution, minimising the visual impact, dealing with tight spaces or preserving space for other building uses. Our range of compact BMUs provide safe, practical and effective solutions for many types of building access challenges.
Compact Range – Type 1 Series
Wherever the building's geometry allows, these proven and economical building maintenance systems are deployed on buildings without major protrusions or recesses. The machines can be operated in narrow spaces and are hardly visible on buildings from ground level when implemented with retractable jibs.
Where roof space allows, compact machines can be installed with a horizontal track or a concrete runway. With both of these options the entire machine can be parked away in a garage area. Where space on the roof is too limited for a horizontal track or a runway, a vertical track along the roof parapet can be deployed.
Economical Series – Type 4 Series
These crane type machines are mainly deployed in situations in which medium to large projections are required due to building terracing or obstacles on the roof. Like our compact machines, they can run on concrete runways or connected to horizontal or vertical track systems depending on the roof space available. Crane type machines can also be directly connected to the building structure.
With standard proportionate projections of up to 40 meters, they also bypass substantial building terraces. At the same time, efficient performance is guaranteed through the functionality built into each machine. They can be completely hidden from view in most cases and save money due to low cleaning cycle costs.
Beyond this, Manntech's facade access solutions can be seen in action maintaining some of the most challenging buildings in the world where compact design was a critical issue. For instance, the supertall skyscraper Lotte World Tower in South Korea required the functionality of relatively large machines but also called for them to rotate inside the building when not in use. Manntech was able to deliver a more compact solution than any other provider.
The CJIB government building in The Netherlands presented a number of challenges, including an unusual 'double' facade with a curtain wall of curved glass slats. Manntech's compact BMUs were integral to the solution, providing access to every surface: the outermost facade, the curtain wall and, vitally, the space between the two facades.
Whatever the architectural challenges your building presents, Manntech can work with you to find the right facade access solution.